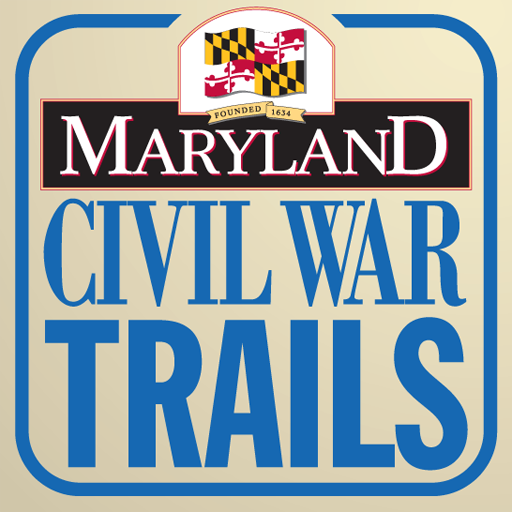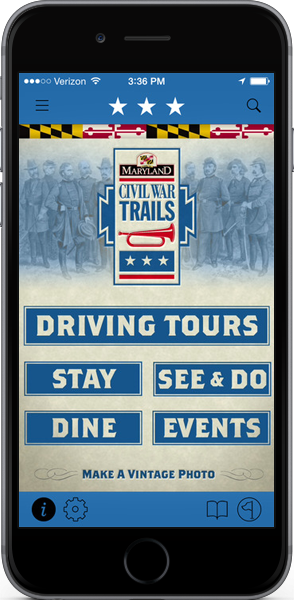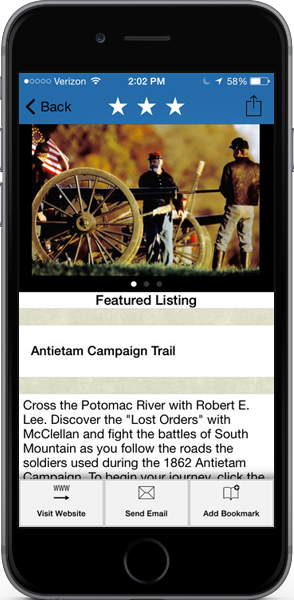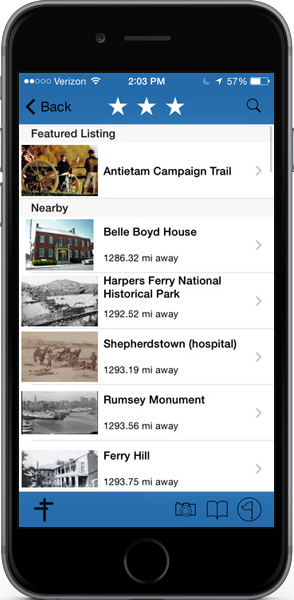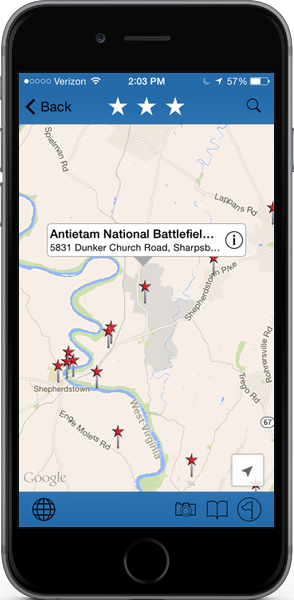 App Description
Maryland Civil War Trails are the best way to explore and discover the people, places and stories of Maryland's pivotal role in the Civil War. Along three scenic drives and one dramatic walking tour, you will be immersed among the famous like President Abraham Lincoln and General Robert E. Lee and among the lesser known men, women and children who lived through some of America's most trying times. This app will help you find your way to more than 225 sites, museums and battlefields while at the same time providing information on events, what to see and do and where to stay and dine.

After your quick download, you will enjoy:

• Zoomable GPS maps that indicate your current location and the point(s) of interest that you are looking for

• Full color photo, video and background information about 225 Civil War-related sites in Maryland

• Civil War sites are grouped into four trails, which will be launched to coincide with sesquicentennial events throughout 2015.

- The Antietam Campaign: Lee Invades Maryland

- Gettysburg: Invasion & Retreat

- John Wilkes Booth: Escape of an Assassin (coming soon)

- Baltimore: A House Divided

• Profiles of attractions, accommodations, restaurants and events in the areas that you are exploring so you don't miss anything on your adventure in Maryland

• BONUS: Make your photos 'vintage' while traveling the Maryland Civil War Trails: Simply take a photo or apply our photo filters to one of your previously taken photos to give it some Civil War-era feel.

The FREE Maryland Civil War Trails app was created to be your Civil War Trails travel planning tool, so that you can enjoy the history that Maryland has to offer! Whether you're driving to a battlefield, overnighting in a charming town or big city and even planning from home, this app has an easy-to-use interface that will guide you to discover the beauty of Maryland's Civil War Trails. To enjoy your travel even more, visit www.visitmaryland.org or any Maryland Travel information Center for access to the complete series of Maryland Civil War Trial map-guides, the Maryland Scenic Byways Guidebook and Map and other fine publications.